We actively encourage students to leave their tutors a review to help us find the best tutors and to help other parents find the tutor right for them. From your second lesson onwards, you'll be sent an email after each session with a link that will allow you to leave your tutor a review for their profile page.
If you can't track down the email, login to your account and head to the "Messages" tab at the top of the page. Select the messages between yourself and the tutor you'd like to leave a review for. You'll then see the option to leave a review next to their details at the top of the page.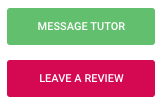 You'll then just be asked to leave a short comment and a star rating out of five, and it will be displayed on your tutor's profile for other prospective students to see! ⭐️
Unfortunately, you are not able to edit or remove your review once you have posted it, so feel free to send over any amendments to our support team and we can update this for you.