To make sure everyone is kept safe using our platform, we have our own private messaging system in place that you can use to contact your students and discuss what they need help with before agreeing to meet up for a trial or an initial lesson. We won't share any of your contact details before your first lesson is booked and confirmed by your student and our text message notifications mean it's a very speedy process - much faster than a carrier pigeon.

We know you might need each other's contact info when it comes time to meet, so once you've booked your first lesson in and it's been confirmed by your student, we'll drop you both a message with each others' phone number so you can iron out any last-minute details. You can also find the student's contact details in the message thread, in the top right-hand corner as shown below: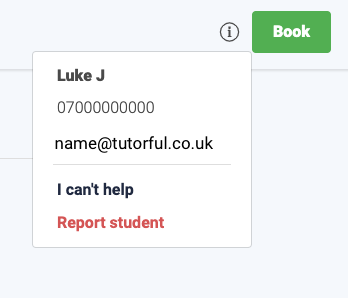 It's really important for us to be able to make sure every student who comes to the site is able to find a tutor they are happy with. We can't do this if the conversation moves offline, so we do ask that tutors keep the conversation on site, at least up until your first lesson together.