How do I update my availability and how does it appear to students?
We have released a new availability calendar! When we released our first calendar, we listened to your feedback that you'd like to take greater control of your schedule and the requests you receive from students. You asked for the ability to add more specific time for when you were and weren't available, as well as scheduling yourself breaks - so that's what we've done.
Your calendar now allows you to specify exactly when you are available to teach lessons, and students can filter their search results based on their own availability and request lessons with you during slots where you are available straight from your profile.
At the moment, the new availability calendar is available to update on our main website and through our mobile app. If you don't already have our app downloaded you can get it (completely free!) on both the Apple and Google Play stores. Just search 'Tutorful'!
We'll show you how to update your availability using both methods at the bottom of this article.
How students will view your availability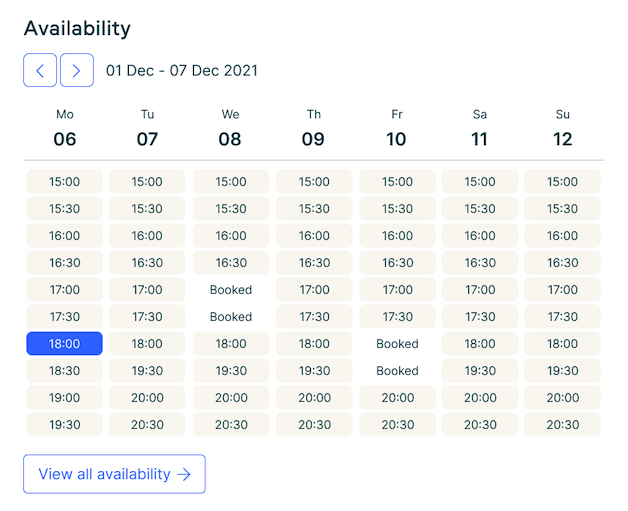 Your availability will be broken down into 30-minute slots. These will appear on your profile and when students choose to request a lesson with you.
Students will be able to click on one of the time slots you have marked as available on your calendar. This will allow them to request a lesson starting at the time and date they selected.
When you are unavailable as you are teaching lessons booked through Tutorful, this will appear as 'booked' on your availability calendar to prevent students from requesting lessons when you are already teaching.
Updating your availability on the website
To update your availability using our website, log into your account and click on 'Availability' which sits on the top left of your dashboard. From here, select each day that you are available to teach lessons. Selecting a day as available will add an available slot for you on that day, you can edit the start and end times for the slot to represent the hours you are available to teach in that slot.
If you want a break between slots in a day, select "add" to create a second slot for that day. This will create a second slot automatically set to be an hour-long and start 30 minutes after the last slot ended. You can edit the start and end time to match your schedule. You can have as many slots as you like per day. To add another day, tick the box next to it and repeat the process.
As well as adding time slots, you can also remove them! Click on the red cross on the right-hand side of the slot you no longer want.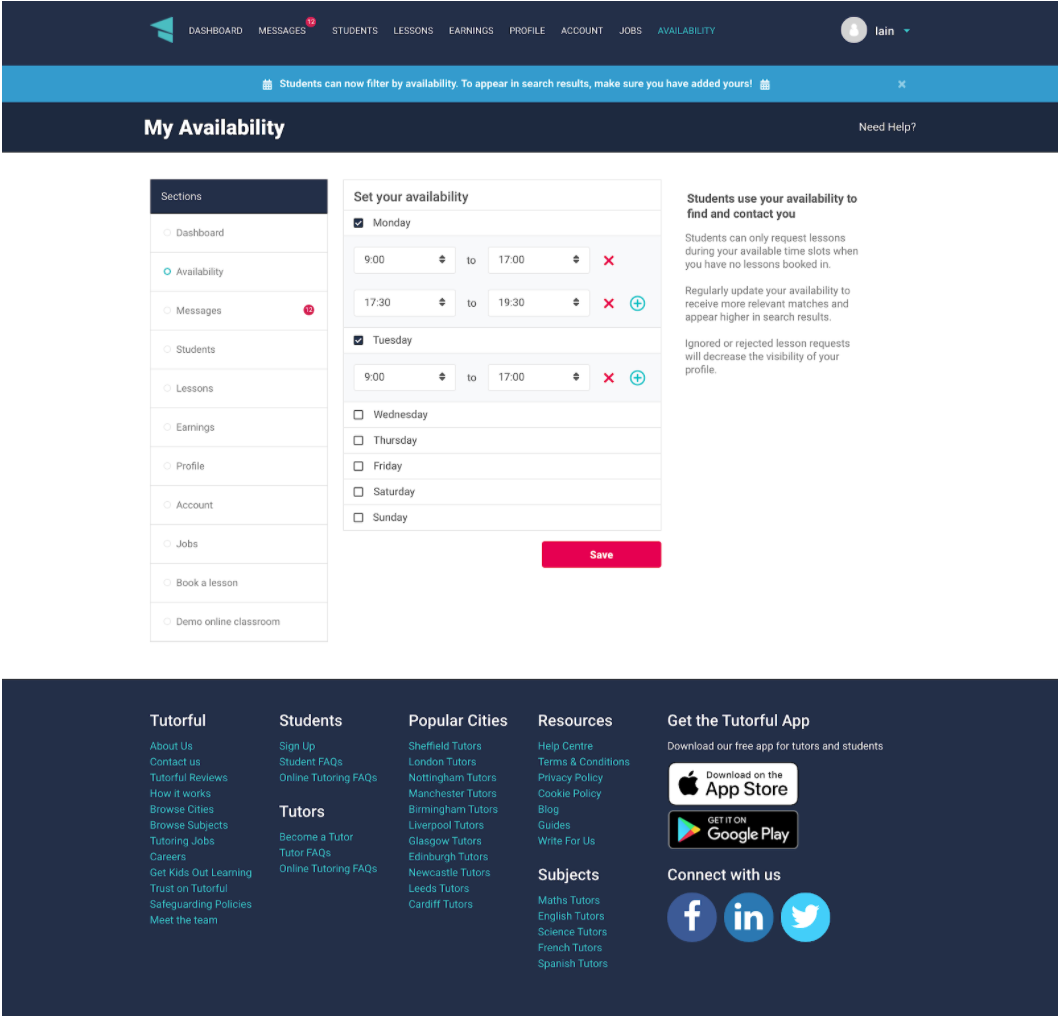 To remove all available slots on a certain day, unselect the day by unticking the box next to it. For example, to do this for Monday you can untick the box next to it, and simply click on the option to 'Delete All.'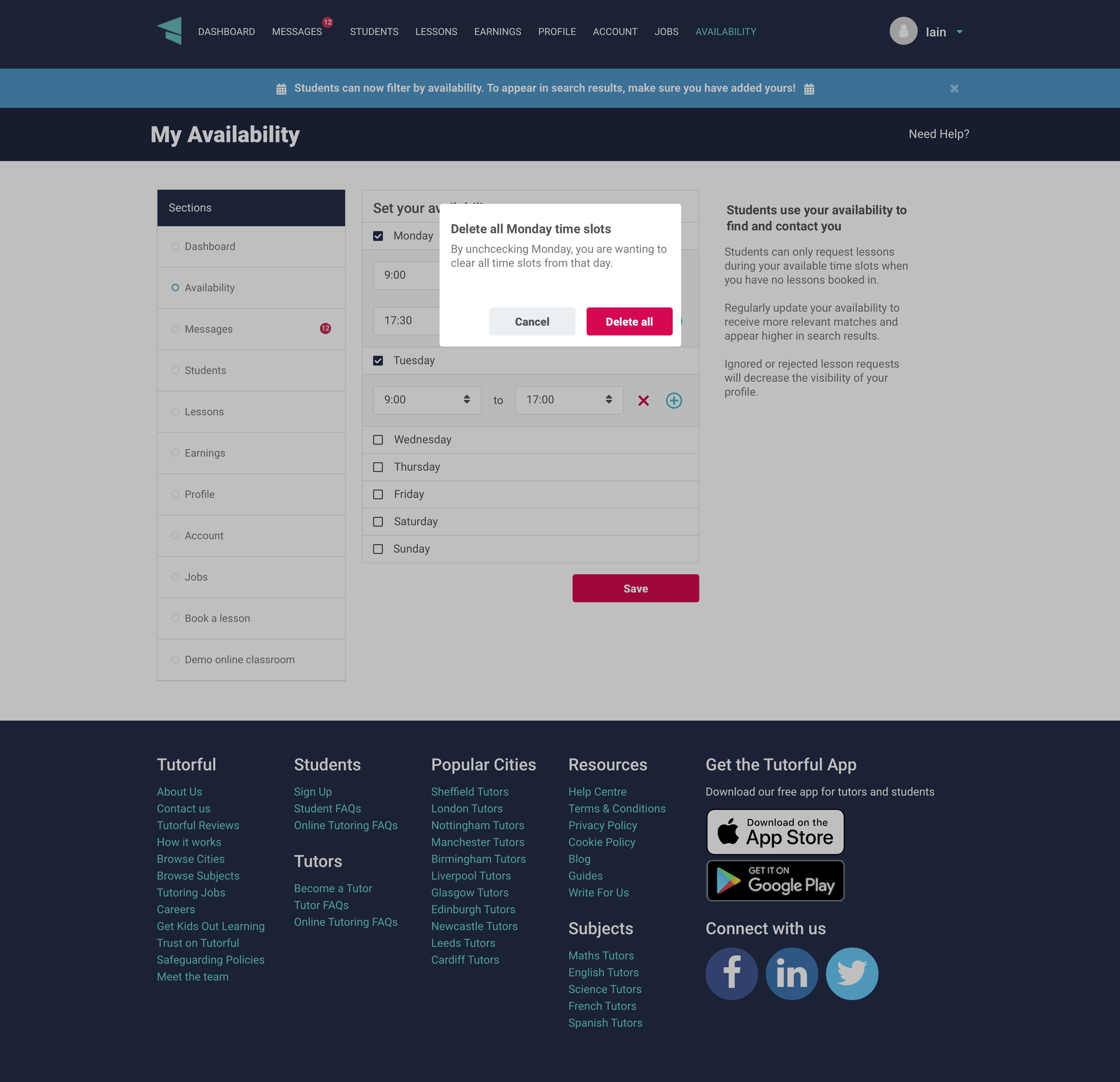 This will remove any available slots on Monday. Clicking 'save' will update any changes on your availability calendar to your profile!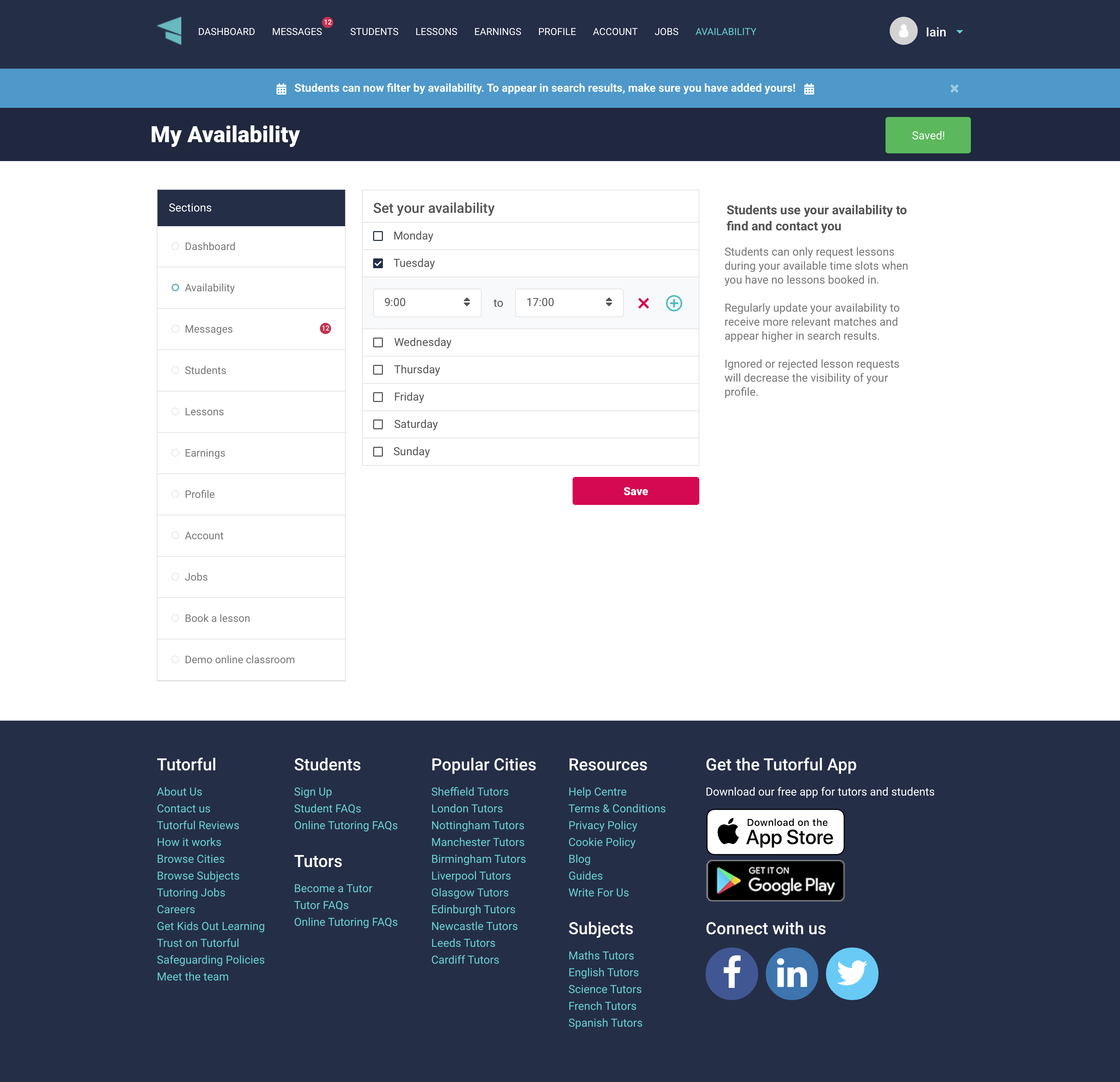 Updating your availability using the app
To update your availability on the app, you'll just need to select the small calendar icon at the bottom of the screen: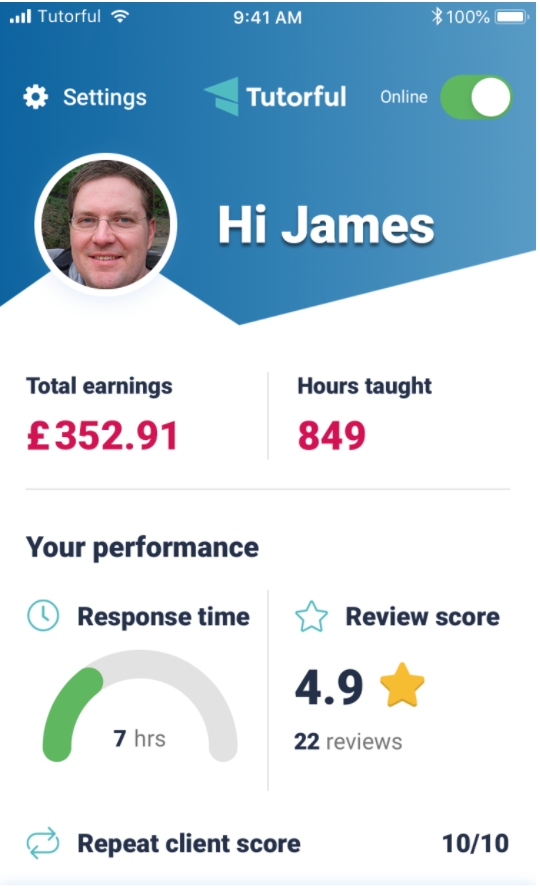 Once you have selected this you will be taken to the availability calendar, where you can select the time slots that you are available for lessons with new students.
Select the day you wish to add your availability and click on the plus icon in the top right corner. Enter the start and end time for the slot you are available that day, and then click 'add'. You can enter multiple available slots for a single day.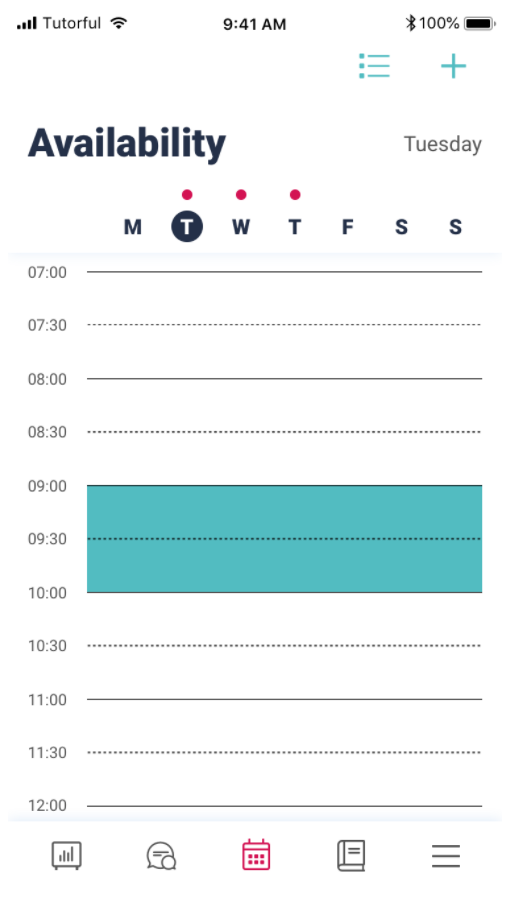 If you were using our old availability calendar, we have copied across your previous availability and converted it into 30 minute slots.
If you did not have your availability set, we've added you a single slot on Monday from 9.00-9.30 to get you started. You should update this as soon as possible, as students can only request lessons with you at this time.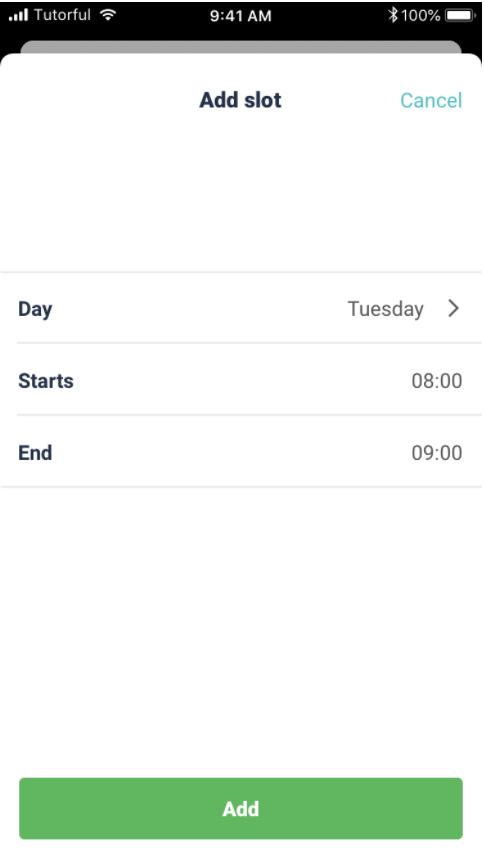 Once you've added your availability, you can click on Overview to see and edit your available slots.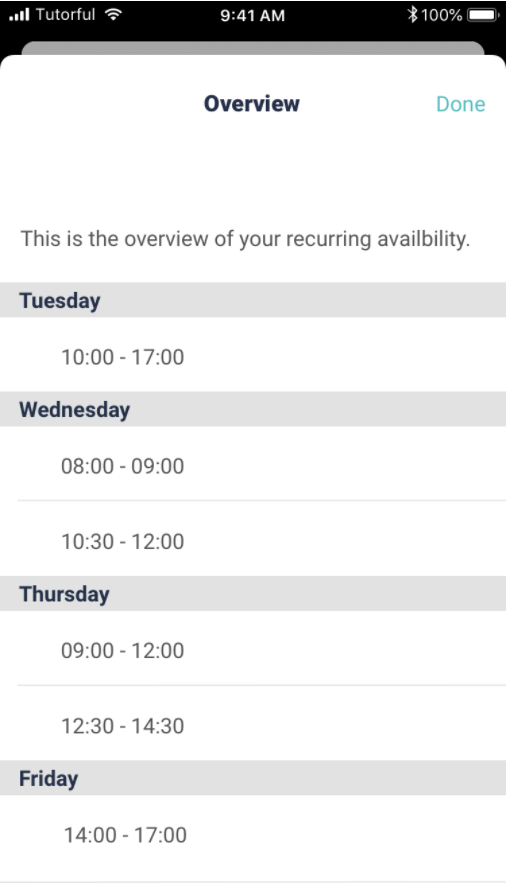 You can edit this at any time to update when you're available. As students have the option to filter tutors by their availability, only tutor profiles who have matching availability will appear in the search results. If you haven't filled in your availability calendar at all, you will not appear in any of these searches so there's a strong chance you could miss out on securing new students.
Make sure you keep your availability up to date, as students will be able to request lessons with you only at times you are available. We'll make sure they cannot request lessons during a time you are already tutoring through Tutorful, but mismatched or ignored requests will damage your profile's visibility. If you are no longer able to take on new students you can set your profile to offline rather than removing all availability selections! Information on how to go offline can be found here.