What is Keyword Search?
We've recently added a keyword search function within the search results, to allow students and parents to find tutors with specific expertise, essential qualities, or qualifications beyond the essential filters (subject, price, availability).
What are some examples of keywords they may search?
Genres or subcategories within a subject
If the student or parent is looking for a music tutor, they can use keywords like "Jazz" or "Rock" to narrow down to the specific type of music they are looking to learn.
Exam boards and qualifications
If the student or parent is looking for a tutor who specialises in a specific type of exam board, like a GCSE Maths tutor who has experience working with the AQA exam board, they can enter "AQA" to find the right exam board specialised tutor.
Tutor qualities and characteristics
If the student or parent wants to find a tutor who has a more friendly or patient approach to teaching, they may enter adjectives such as "Friendly" or "Patient", or "Kind" in the Keyword Search.
How do they use keyword search?
Students will see the option to include a keyword into their search criteria: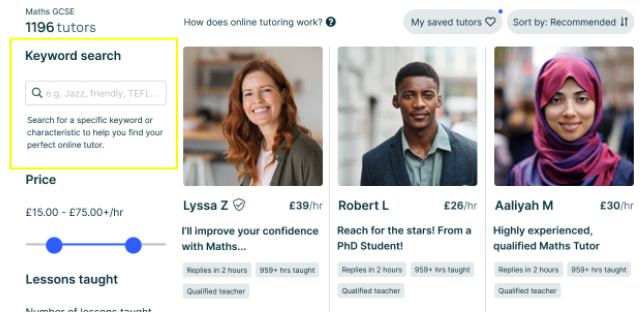 The search results will then prioritise tutors that have any keyword featured somewhere on their profile bio - it's that simple!
Tips and tricks
As a tutor, we are not asking you to do anything new to optimise your profile for students to find you. Providing that your profile is up to date and informative, the keyword feature will do all the heavy lifting for you.
Some things to make sure you are including in your bio are:
Any specific areas you are very knowledgeable about within a subject (for example 'Creative Writing' or 'Poetry' within English, or 'Vocabulary' for a foreign language)

Any exam boards that you have experience marking, or have experience teaching towards

Any experience you have teaching children and young people who need extra support, or require an advanced programme of learning
It is just as important as ever that tutors remain honest in their profile bio. This new feature will assist students in finding a tutor that self-declares the qualities they are looking for - failing to back up these claims will certainly result in unsatisfactory experiences.