Online Tutoring is a great way to teach students from your own home. With Tutorful, you'll be able to accept students from all over the UK, and have access to our brand new online classroom to teach your lessons. You'll be able to speak via webcam, share resources with your student, annotate a shared whiteboard, record lesson notes and much more.
How to get started
To get started online tutoring, simply head to your profile page, and edit your Teaching Preferences to include online tutoring. You'll then appear in the online search results and be able to access online tuition requests posted to our Job Board.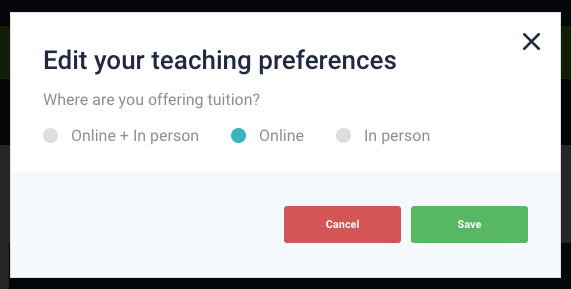 Trying out the Online Classroom
All online lessons take place in our Online Classroom. We highly recommend familiarising yourself with the classroom before teaching a real lesson. To do so, select "Demo Online Classroom" from the drop-down underneath your name in the top right of the website.
How to book an online lesson
To book your first online lesson simply select "online" as the lesson location. We'll send you and your student a link to the Online Classroom, and you'll be able to join at the time of your lesson.  
How to join the lesson
When it's nearly time for your lesson to start, simply head to the lessons panel, and click on the lesson you wish to join. You'll be sent to our Online Classroom. You'll also see a banner across the top of the webpage with the option to "Join Lesson".