When a student finds your profile and decides that they would like to contact you, they can choose to either request a lesson with you or send you a message if they're not quite ready to book.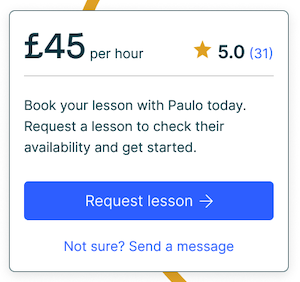 Lesson Requests
If a student requests a lesson with you, you will receive an introduction written by the student in your messages. Below their introduction will be a "View lesson request" button. Clicking this button will display the lesson details such as the requested date, time and duration of the lesson. If you have entered your availability, this will be visible to students when they make their request.
Once you've received a lesson request, you'll see a few different options once you click on the 'View lesson request' button. If you're able to help the student at the requested time and date, you can easily click the book lesson button to get it booked in on the system! The student will then be asked to confirm the lesson and enter their payment details - once they've done so, it's all set to go ahead! If you're unable to help for any reason, you can just let them know by selecting the I can't help option.
However, we know that sometimes you may need a bit more information from them to find out if you're the right tutor to help, before booking a lesson. In that case, you can just hit the 'ask a question' button so you can then write out a message to them. If you're then happy to help the student after exchanging a few messages, you can book the lesson in either through the lesson request button (if you're doing so before the time and date the student initially requested), or through the book lesson button at the top of your messages!
What if I can help, but I can't tutor at that specific time?
If a student has let us know when they are available, you can see this by clicking 'show availability'. In this scenario, you will have the option to change the time and date to a time that is convenient for both of you. If you book a lesson at an alternative time/date, the student will be informed and asked to confirm the lesson and enter their payment details. If the student has not specified their availability, you can click 'message' to return to the message thread where you can let them know and suggest an alternate time!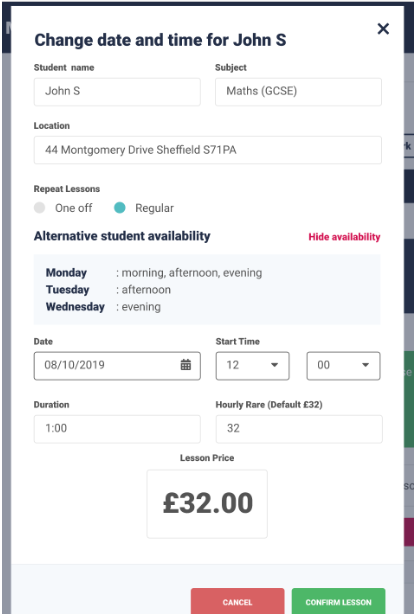 Once the booking is confirmed by the student, your lesson will go ahead at the agreed time and date.
Why should I update my availability?
Students will use your availability to filter and search for a tutor who is available at a time when they want their lessons. Tutors who have entered availability that matches the student's search will appear higher up in the search results! A student will also use your availability to request a lesson at a specific time/date. You can see how to update your availability here.
Please note that as with all queries, tutor scores can be negatively affected if a lesson request is ignored. Tutors need to either confirm, change the time or date or let the student know they cannot help!